×
By Ed Avis
            There's no doubt that the reprographics industry has suffered during the Covid crisis, just like nearly every other industry. But there are bright spots.
            According to an APDSP survey last week, 74 percent of reprographics shops are printing signage or other graphics related to Covid, and 26 percent are doing other Covid-related work, such as making face shields and germ-fighting sneeze guards.
            Below are the stories of three shops that are contributing to fighting the crisis with their work.
---
Reprographic Arts: Lifting the Community's Spirits
            One of the biggest problems of the Covid crisis is how it's been wrecking the day-to-day routines of communities. Celebrations are postponed, big events are canceled, and even little things like getting a beer after work are curtailed.
            In late March, Reprographic Arts, a reprographics firm with locations in Michigan City and LaPorte, Indiana, decided to cheer people up by giving away bumper stickers that said #michigancitystrong. They posted the free offer via their Facebook page.
            "We told people, 'Honk your horn and we'll come out and put them on,'" says Kevin Brown, owner of the firm. "We gave away 500 of those stickers."
            That success gave Brown the idea to create t-shirts with the slogan and donate proceeds to Arise and Shine Food and Outreach Center in Michigan City. Those were also a hit and led to the production of yard signs with the message.
            Brown didn't want to leave out the other community they serve, so they started making t-shirts and yard signs that said #laporteproud and donating proceeds from those sales to The Pax Center, a food bank in LaPorte.
            "Right after that we started getting calls from people who wanted us to make signs for their high school seniors," Brown reports. "Then Michigan City High School called us and gave us an order for 500 t-shirts and 370 yard signs. They're going to present them to the kids."
            The orders didn't stop there. Soon the owner of Leeds Public House, a restaurant on the ground floor of a large building, ordered a banner and window graphics that spelled out TOGETHER #MCSTRONG. Next the mayor ordered a big sign thanking hospital workers. The orders keep coming, Brown says.
            "The first few days of the crisis were slow because everybody was tripping out," he says. "But we stayed open – keeping our distances – and orders came in. We're down 30 percent, but we're not out."
---
BluEdge: Helping Stop the Spread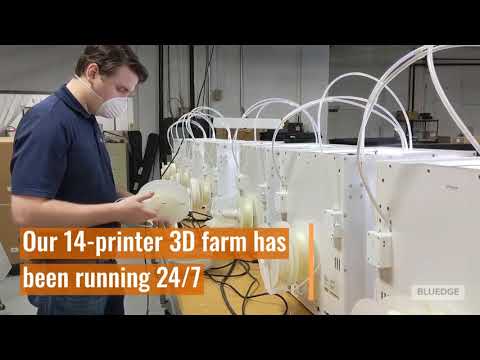 Doug Magid, president of BluEdge, a 7-location imaging firm, says they got the idea to make face shields from news media reports of the crisis.
            "It became apparent that there was a shortage of PPE for hospitals and other medical workers, and we have a bright, young technology consultant on staff and he suggested we could make the shields using our 3D printing capability," Magid says. "And we could produce them quickly, which was the key."
            The consultant, Noah Zeiff, designed the shield that could be made on BluEdge's UltiMaker 3D printers. The company gathered all of the printers of that type that they had scattered among locations, and even found a few more among clients who had the printers but were not using them. They created a 14-printer "factory" in their Belleville, NJ location.
            The frames of the shields are 3D printed, and then attached to .02 mm PETG that is cut to shape on the company's Multicam cutters. (Click the image above to watch a video about the shields.) The company can produce up to 10,000 face shields per week.
            "We've been selling and donating the face shields," Magid says. "Our goal was to donate up to half of them, and I'd say we've probably donated to approximately 15 different hospitals and medical institutions. We've also been selling them to those institutions and doctor's offices and places like that. We haven't had any huge orders, but they keep coming in."
            Magid says that they received inquiries from a couple of hospitals for orders of many thousands, but they never materialized. He said when those orders were pending, he reached out to other members of the RMX Network to see if they could help produce them. "We got an overwhelming response from the group," he says. "Everyone was 100 percent behind it, knowing that these things were supplying our frontline medical workers, EMTs, hospital workers, etc."
            Magid says he believes the demand for face shields has peaked, but a couple of weeks ago BluEdge also started producing plastic sneeze guards for businesses that need to separate employees and/or customers. In addition, they've been printing signage and floor graphics with Covid-related messages.
            "We've noticed recently a real uptick in the demand for these products," Magid says. "I think we will continue this product line for as long as it's needed, and I think it will be needed for many months."
---
Lynn Imaging: Protecting Employees
Lynn Imaging Sneeze Guard
A sneeze guard made by Lynn Imaging
            When BluEdge put out the word that they might need help making face shields, Lynn Imaging geared up to help. They never needed to supply BluEdge, but the request got them into the face shield business.
            "Once we made sure we could make them we got the word out on our web site and social media," says Glenn Norvell, the company's CFO. "Two or three people here are on the board of a Christian-based nonprofit assisted living home in Lexington, and they needed face shields, so we donated some to them."
            Since them Lynn Imaging has taken an order from another healthcare organization that is preparing to re-open once the crisis subsides, and they expect more such orders.
            "Everybody knows they're going to need this stuff," Norvell says.
            However, Norvell believes bigger sales will come from sneeze guards. It's important to proactively sell these kinds of products, he says, because clients don't normally think of a reprographics firm as a provider of PPE.
            "I think people need to get the word out, because our clients have no reason to suspect we can do this," he says.
            Lynn Imaging has orders for sneeze guards from a bank and a horse racing facility, both of which need them to create safe spaces for employees and customers. The sneeze guards are custom sized for each facility and cut from sheets of clear PETG on Lynn Imaging's Zund cutter. The "feet" of the sneeze guards are made from a rubber-like foam material (see photo).
            "Not every bank has the same size cashier's window, so they're made to order," Norvell says. "It's a nice order to have. The sneeze guards don't require any installation. We just deliver them, and they set them up themselves."
            Lynn Imaging also has been selling social-distancing floor graphics to the banks.
            "I wouldn't call the new work a substantial amount of sales, but we're just starting to move the sneeze guards," Norvell says. "Businesses in Kentucky are starting to think about what they need to do to reopen, and sneeze guards is one of the solutions to protect their employees. So I think we could do significant more business in these things. We've done all kinds of interesting things through the years, but we've never made PPE before. But now we are."